What is ClearFax?

ClearFax is a Windows fax printer driver that allows you to deliver photo-quality faxes from any Windows desktop program. ClearFax produces the visual effect of high-resolution output. With ClearFax you can produce stunning, high-resolution output, even on the oldest fax machines. ClearFax seamlessly integrates with SmartFax, WinFax, PhoneWorks, 800Works, BroadFax, eFax or any Windows-based fax software. If you can print it - you can ClearFax it! Popular Science Magazine rates ClearFax as "A Product You Can't Live Without..."

Learn More Fact Sheet Fax Sample Testimonials FAQ


How Does it Work?

To activate ClearFax, prepare your document in any Windows application that supports printing (which is almost all of them). When you have a document that you wish to send as a fax, just start printing it as you normally would but in the printer selection box choose "ClearFAX Turbo" as a current printer.

ClearFax enhances the images in your document and then hands over control to your pre-selected fax-handling program (e.g. WinFax.) Your normal fax handling software will take you through the usual process of sending a fax. You can still use any fax program on its own (without ClearFax) just by selecting a printer other than ClearFax as your printing device. ClearFax does not modify any applications.


A. CLEARFAX "PRINT DIALOG" See* (Diagram 1) below.
Open any Windows document. (Word, Acrobat, Quark, Web Page etc.)

Select "File" from the upper left menu bar and click "Print".

Select "ClearFax Turbo" from the pull-down menu. Then Click "OK"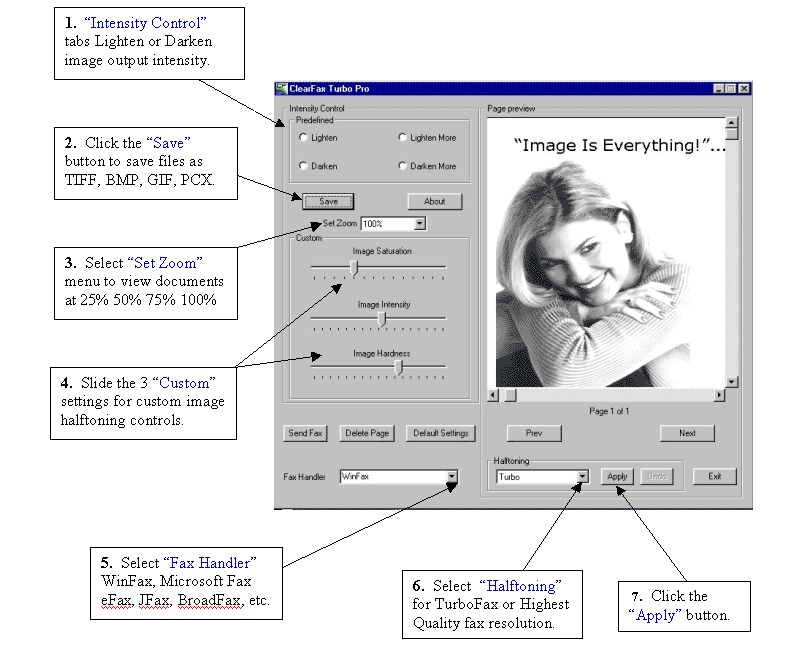 SYSTEM REQUIREMENTS:
· A PC running either Windows 95/98/ME or Windows NT/2000/XP
· A fax modem
· 64 Megabytes of RAM or more
· 1 Megabyte of hard disk space
· Fax sending software (WinFax, Microsoft Fax, eFax, etc)


Buy Now Learn More Download Demo