800-Works Pro is designed for the busy professional on the go. It's the ideal way to manage all your messages and stay connected. Manage your calls, voice messages, and fax messages from the web or any phone, anywhere, anytime.
Increase Productivity
Reduce all your contact numbers to a single toll-free telephone number. Clients, colleagues, family, and friends can call and fax you with a single nationwide toll-free number calls get routed to you at any time of day or night.
Remove the dedicated Fax line. 800-Works Pro fax detection can route fax calls to your email or save them in your private message center on the web.
A single voicemail location; you don't have to check multiple cell phone, office or home voice mailboxes.
When you're online, a visual Caller ID display shows you who's calling and allows you to Reply to the Caller, Accept Call, Ignore Call, or Send to Voicemail.
Powerful
Notifies you of new messages by a screen-pop, email, pager, or your mobile phone
Instantly to call back a caller who left a message, without looking up or dialing the number.
Active 24x7, whether your computer is turned on or off.
Can replace your existing answering machine.
Easy to Use
Allows you to record a private greeting, or customize one you've pre-recorded.
Keeps a detailed call log of all your incoming calls.
Enables you to download messages as .wav files for offline processing and storage.
Allows you to retrieve messages from any phone, the web, or have the messages and faxes emailed to you.
How it works
800-Works Pro provides you with your own private toll-free 800 number and sets up your account to handle calls just the way you want. When business associates phone or fax your private toll-free number, 800-Works Pro automatically answers the call and handles the call appropriately - whether it's to send the call to voicemail, route the call to you, or receive a fax. If you're online at the time, a screen pop-up notifies of the call and you can decide what to do based on the caller name and ID.
Nationwide toll-free 800 number
FindMe call routing
FollowMe call routing
RingCentral's Internet Fax
Instant-Call-Back
Call Screening
Message Center
Message Notification
Internet Call Notification
Nationwide toll-free private 800 number
Business associates, clients, friends and family can call and fax you with a single nationwide toll-free number!
At a cost substantially lower than that of your telephone company, your callers may speak with you, leave you a message, or even send you a fax at your dedicated toll-free number!

The 800-Works toll-free number is metered through the use of Airtime Minutes. Airtime Minutes are used only under the following three scenarios:
When a 800-Works subscriber or their caller connects to the toll-free number to retrieve or record voice messages.
When a 800-Works subscriber accepts a call while they're Online.
When the subscriber's FindMe/FollowMe functions are used.
800-Works provides 150 Airtime Minutes per month as part of your subscription fees. These minutes renew monthly on the anniversary date of your sign-up.

Additional Airtime Minutes may be purchased at 5¢ per minute.
FindMe, call routing
Have your calls find you wherever you are!
Calls will be re-routed to the phone number of your choice, even your cell phone. You can change your forwarding number at any time through the web. You can even turn your privacy manager on so all calls automatically go to your 800-Works Pro voicemail.

Do you sometimes wish that a call to an office could be automatically forwarded to another phone or location so that important call actually reached you? One of our most popular and useful tools is 800-Works' sophisticated FindMe call routing feature. It allows calls to be forwarded based on the exact needs of every end user. Since these calls may need to be forwarded to different locations and phone at different times we provide up to 4 different locations for call forwarding. Quickly change where calls are forwarded with the touch of a few keys on a phone or via our private web site.
FollowMe, call routing
Tell 800-Works where you are and have calls temporarily forwarded to a new number!
Often in a building or room that does not get cell phone reception? Just call your toll-free 800 number from any phone and tell FollowMe call routing where to temporarily send your phone calls. This will take precedence over your FindMe profile until you turn it off.
RingCentral's Internet Fax
An Internet-based Fax Send & Receive service
Included with your 800-Works subscription, is RingCentral's Internet Fax, the leading Internet Fax solution - entirely based on your private toll-free 800-number! Internet Fax eliminates the need for a dedicated fax line, doesn't require any additional equipment, and lets you send and receive faxes directly from your PC to and from any fax number in the US at extremely low rates. Now you can save when sending faxes to your customers, suppliers, friends or family. Sending a fax costs just $.05* per page to US fax numbers.

How it Works:
When someone sends a fax to your dedicated 800-Works toll-free 800 number, the RingCentral Fax and Delivery Receipt Network processes the fax and emails it directly to you as an attached file. We'll notify you by email that a fax is waiting for you within your 800-Works account message center. When you want to send a fax, simply access your 800-Works account from any Internet connection and send a fax from your account - we'll process the fax and send it off!

Send to One, Send to Many. Wherever, Whenever you Like
You can also send the same fax to a group of people using our address book feature. We make sending faxes convenient for you by allowing you to send faxes anytime and anywhere you have access to the Internet. Personalize your cover pages, and receive email notification of each and every fax sent - no more checking and rechecking whether or not your fax went through!

Advanced Features for People on the Go
Picking up voicemail? Why not listen to whether or not you have a fax, how many pages it is, who it came from and when it was received. All via the telephone.

* These rates apply to fax pages that take less than 60 seconds to transmit, which covers approximately 90% of all faxes. Fax pages which take longer than 1 minute will be charged as multiple pages. Minutes are deducted from monthly plan allotment of 150 minutes.
Instant-Call-Back
Instantly call back a caller who left you a message!
Allows you to instantly call back a caller who left a message, without looking up or dialing the number. 800-Works electronically attaches your callers' name and number to the message and will even recite the number back to you. With the push of a button, you can return that caller's phone call. You won't have to look up or remember a phone number when you are driving.
Call Screening
When away from your computer, use the phone to screen your calls!
You keep control of who reaches you with 800-Works Pro because it tells you the Caller ID of your caller. You choose to receive the call or send the caller to voice mail. The caller hears a polite message that you are unavailable.
Message Center
Your 800-Works Pro private message center takes voicemail messages for you, which you can then listen to from any phone, the Internet or even have them sent to you via email as .wav attachments! Message center will also accept any fax sent to you. You can have the faxes saved in your message center or have them sent to you via email. No longer will you need multiple phone number and mailboxes.

If you have access to a phone, email, or the web, then you have access to your private message center.

From any phone
Access your voicemail and listen to your messages
Instantly call back callers who left a message
Set or turn off a FollowMe number
Listen to the number of faxes you have and how many pages they are
Turn a FindMe profile on or off, such as do not disturb and after hours
From any computer on the web
Access your voicemail
Listen to and forward messages
View and forward faxes (Forward Faxes - Coming Soon)
Change where your calls are directed
Be notified of incoming calls real-time and decide what to do, or let your 800-Works Pro profile decide what to do
From any email application
Receive and listen voicemail messages
Receive and view fax messages
Be notified of received fax and voicemail messages
| | |
| --- | --- |
| Walt Smith | Phone Number: (650) 555-1111 |
| | | |
| --- | --- | --- |
| 10/28/2001 22:55 | 2 new and 3 saved messages | |
| | | | | | | | | |
| --- | --- | --- | --- | --- | --- | --- | --- | --- |
| | | | Phone Number | Name | Date & Time | Length | Save | Forward |
| | | | (415) 555-2222 | David Jones | 10/26/2001 7:48 | 12 sec | | |
| | | | (415) 555-2222 | David Jones | 10/25/2001 17:34 | 8 sec | | |
| | | | (415) 555-3333 | | 10/25/2001 17:21 | 8 sec | | |
| | | | (415) 555-3333 | | 10/24/2001 11:08 | 11 sec | | |
| | | | (415) 555-4444 | | 10/24/2001 10:10 | 3 sec | | |
Message Notification
With 800-Works Pro, you decide how to be notified of new messages!
When messages are received into your message center, 800-Works Pro can notify you any way you would like. Be notified by email and have fax and voice messages attached to the email. Have a notification sent to your email-enabled alphanumeric pager or text supporting mobile phone, giving you information about the status of incoming calls, messages, and faxes. 800-Works Pro tells you through your email-enabled alphanumeric pager or text supporting mobile phone the number of voicemail messages received, which messages are urgent, and the number of faxes received. It even gives you Caller ID, by displaying the number of the caller or message sender.

Be notified of new fax or voice messages by any method you choose
Email
Mobile phone
Email-Enabled Pager
Or computer screen pop-up
Internet Call Notification
When you're on the Internet, 800-Works notifies you of an incoming call and lets you decide what to do!
Let's say you're online, and a call comes in, 800-Works will the politely ask the caller to wait and presents you with the following display: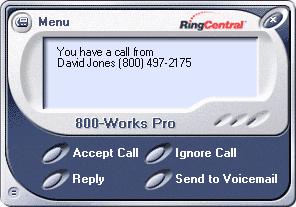 Your caller meanwhile hears this:

"You've reached the answering service for <your name>. Please hold while I try to connect your call". The caller is then placed on hold for a few seconds, while you decide what to do with this call.

Your Options are:

Accept Call - Allows you to preset a list of phone numbers and designate one of them for the phone call to be forwarded.

Reject - Allows you to reject the call without giving your caller an opportunity to leave a voice mail message. Your caller will hear: "800-Works Pro Subscriber is not available at the moment", and the call will be terminated. This option is great for handling those pesky solicitors...

Send to Voicemail - Allows you to use 800-Works Pro as an Internet Answering Machine. Your caller gets to record a voice mail message (rather than hearing a busy tone), which you can later retrieve from your 800-Works Pro message center over the Web.

Reply - Allows you to send a text-to-speech reply message to the Caller without interrupting your Internet session. You can choose from a number of prerecorded messages: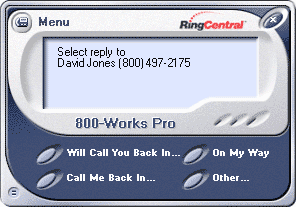 Or select "Other..." and enter your own custom message: